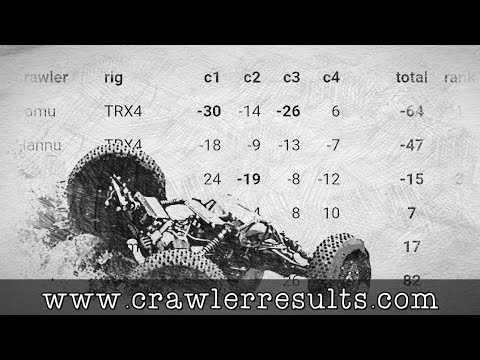 www.crawlerresults.com
A brand new home for all results of WRCCA Crawling and SORCCA Scale classes.
The page is made to simplify and unite all the scorekeeping and results throughout the globe. It allowes you to create seasons, competions and to judge through your mobile device or a tablet. No more pens, papers and stop watches. It's all there.
You are able to follow live all the competitions and individual performances and watch the individual course scores afterwards. This page counts the competition and season scores by pressing ONE button. Amazing. In this video there's all you need to know about the functions and abilities of the page.
0:00 Introduction of the page
3:02 The main site
4:28 The test site
5:40 My rules / Class and comp configuration
6:23 Main comp settings 8:40 Final course settings
9:10 Season rules
10:41 Extra settings
11:11 Driver info settings
12:03 SORCCA Scale Class configuration
14:57 Saving configurations
15:54 Adding and event / season
17:19 Adding classes
17:50 Adding drivers and courses
19:09 Course judging (Crawler classes)
24:38 Finishing the class
25:27 Adding Scale drivers
26:10 Judge mode
27:03 Course judging (Scale classes)
30:25 Switching from judge mode to normal mode
32:51 Adding second comp to a season
34:45 Live viewing
35:20 Season points and finishing a season
36:12 Creating an individual competition
36:48 Adding finals course
41:01 End speech
42:34 Application of accounts
Created by antix from Estonia with the help of me it is first of it's kind and will be a great tool and archive for future.
Official site:
www.crawlerresults.com
Test site:
www.test.crawlerresults.com
Send your account application and needs to
eurocrawl@gmail.com